This year, Dutch Design Week (DDW) presents 8 design trends that mark the most important developments in the field of design. In this trend we explore the problem solving qualities of designers when it comes to the challenges of the modern world.
Save the environment
The climate problem is perhaps the designer's biggest challenge. There are different ways of tackling this problem. Studio Marco Vermeulen uses biobased materials as a solution. The Biobasecamp, on Ketelhuisplein, is a pavilion to show how architecture can contribute in reducing CO2 and nitrogen emissions. In the pavilion, conventional building materials such as concrete are replaced with natural materials, especially wood. Trees use these harmful substances to grow and store them. By demonstrating that wood, such as cross-layered timber from conifers for the deck or poplar trunks for the construction, are useful building materials, Biobasecamp hopes to make a positive contribution to the appreciation of this material in the Netherlands.
>
New technology is another designer's tool. CONCR3DE, for example, developed its own production process with a combination of digital design and 3D printing in stone. CONCR3DE researches the future of production processes in architecture and design through collaborating with young designers and renowned architects such as Zaha Hadid Architects. Using a unique high-tech industrial 3D printer, with the friendly name Armadillo, they combine digital design with high-tech production. This makes it possible to print solid stone structures with a precision of 0.1 mm. Fine enough to use in restoration processes or product design but also to make artificial coral. Due to its fineness, it is possible for marine life to establish itself on it. MAEID developed a special structure for this purpose using a special algorithm. Facilitating the rapid restoration of slow-growing coral with the help of high-tech equipment.
Save architecture
The built world is full of monuments, remnants of the past. Sometimes they lose their function and become superfluous and are on the verge of demolition. Designer Nynke Koster focuses on the decorations in architecture over the centuries in her project Elements of Time, which can be seen in the Crafts Council's exhibition How&Wow. She makes casts in special rubber from typical decorations and details. The objects are tangible memories of the spaces they come from. In this way, these physical souvenirs of the past can be passed on to future generations.
>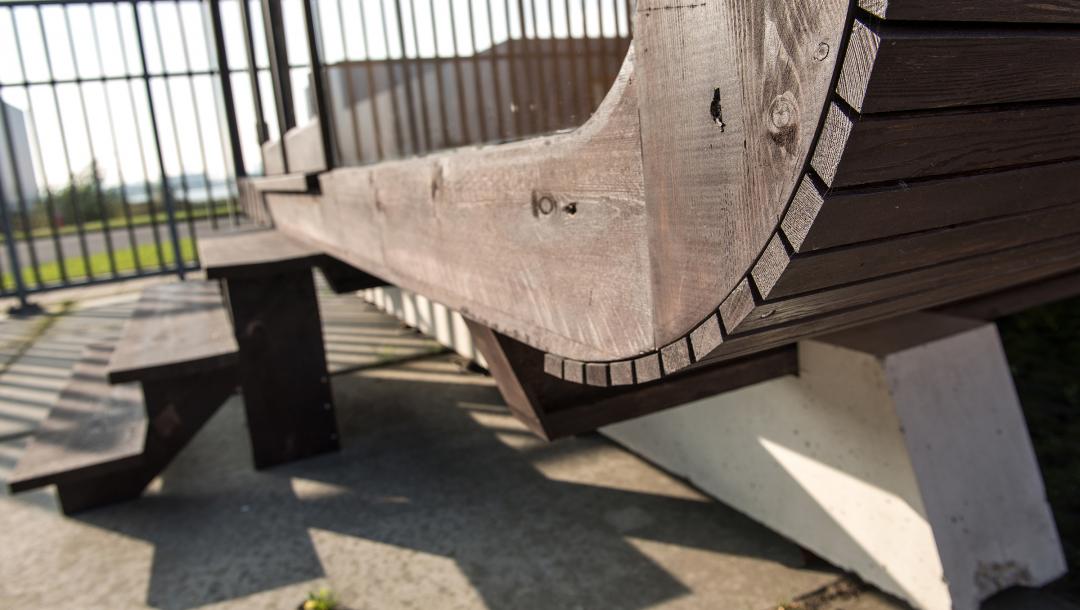 Traditional building materials such as concrete and stone are environmentally damaging, wood is more environmentally friendly, as shown by the Biobasecamp. Wikkelhouse adds another material: cardboard. A modern and sustainable house has been developed from this everyday material. Not only is the use of this material new, the design language and production process are also experimental. The basic construction consists of elements of 1.2 metres deep, which can easily be butted together, interlinked or disconnected. The cardboard core is protected from the Dutch rain by a breathable foil and finished with wooden façade panels. All materials are sustainably produced, and the individual segments are reusable and fully recyclable.
The materials used for houses are becoming more durable, such as cardboard and wood, but also the construction itself is becoming increasingly efficient, especially through prefabrication. However, there is still a blind spot in this process: the waste material from the construction site itself. Design duo Alissa&Nienke, together with Atelier to the Bone and designer Kirstie van Noort, collected all the packaging material that is left after the construction of a terraced house. It was not uncommon for it to be the same type of material, including 318 square metres of LDPE film. In their installation One Standard Row House in the Van Abbemuseum, part of the larger exhibition GEO-DESIGN: Junk, they show the potential of these residual materials.
Save the design studio
For the designers of the future, good workshops and studios are essential. In order to show the relevance of their work to the public, designers' studios are increasingly becoming a place of experience as well as an office and studio. Like the presentation FUTURE WORKSPACE by Kiki&Joost. They open the doors of their new creative hub and provide a glimpse into their personal approach to working. Their workshop is the place where the magic happens, where they work towards a better future. With FUTURE WORKSPACE, Kiki&Joost not only show the architectural space but also the process of arriving at this workplace. In addition, they let us see what cooperation, with each other, but also with external parties such as manufacturers' brands looks like.
Hidden in a dense forest is another special workplace: DDW19 ambassador Jalila Essaïdi's BioArt Laboratories. In this former military complex at Strijp T+R she creates a laboratory around symbiosis, the idea that all living organisms are interconnected. This special workplace location creates an atmosphere in which anything is possible. Like a contemporary alchemist, she experiments with new materials and new ideas to improve the future. Under the name The Symbiocene Forest, BioArt laboratories takes the first steps in the new chapter of human history through exhibitions, debates and workshops.
Save me
In an increasingly fast-paced society, where we face all sorts of challenges, from waste to climate, and where digital media constantly keep us up to date with the latest news, the individual is struggling. We want to live in a nice place, preferably built as sustainably as possible, we want to surround ourselves with fine objects and we want to feel good. But how? Anne Ligtenberg and Mats Horbach are looking for the answer in the design world. In the exhibition WE FEEL FINE, which can be seen in Sectie-C, they consciously give attention to design. This personal attention makes the world a bit more human and therefore more friendly. Whether it's the products we use, the spaces we move into, the systems we are part of or the information we take with us, you will feel this attention. Perhaps this is where the solution resides.