Every other week we celebrate one of the most interesting, exciting, intriguing, funny or unusual #heyddw Instagram posts by featuring an exclusive interview in our online DDW Magazine. This time, we chatted with the Leerdam brothers: Lennart and Lauren.
Hi Lennart and Lauren! Could you briefly describe who you are, where you are from and why you've become designers?
We are two Dutch brothers born and raised in the beautiful old town of Deventer. After our studies (Lennart; marketing, Lauren; graphic design), we applied for Design Academy Eindhoven at the same time. Especially for Lauren, this was a logical next step. He was born with the natural ability to design or disassemble things to see how the technology is doing its job. It was clearly visible from an early age. This step was a lot more exciting for Lennart, but it turned out to be a perfect match thanks to his strong affinity with aesthetics and the interaction of people and objects. Now, eight years later, we work together on a daily basis to make something beautiful out of our business.
In response to the emerging coronavirus, many design events are cancelled and the number of commissions is noticeably decreasing for many designers. What impact has it had on you so far and how do you look to the future?
Since the speech on the 9th of March by our Dutch Prime Minister, Mark Rutte, we have had to deal with a couple of assignments being postponed or moved to a new deadline. And, we do also notice an immediate decrease in our direct product sales. So yeah, it is absolutely a difficult time to run your own business. Fortunately, we are still healthy and are more worried for the people around us. However, this should not take too long of course. For the now, we can't do any more than following the rules of the RIVM and our government. Hoping for the best!
You shared a photo of your Paperthin collection with us on Instagram. Last Dutch Design Week (DDW) you showed this collection in VEEM. How was it received?
That's right! We presented our existing Paperthin collection in combination with the new BEAMS series at VEEM. The combination of projects worked well for visitors. They could partly recognise the work of the Paperthin collection from 2017, while getting enthused by the new project at the same time. We had not particularly thought of this in advance. Our task was to combine two different product lines focusing on the overall dynamics. The end result was received very well! Both in direct response on location and in the assignments that followed.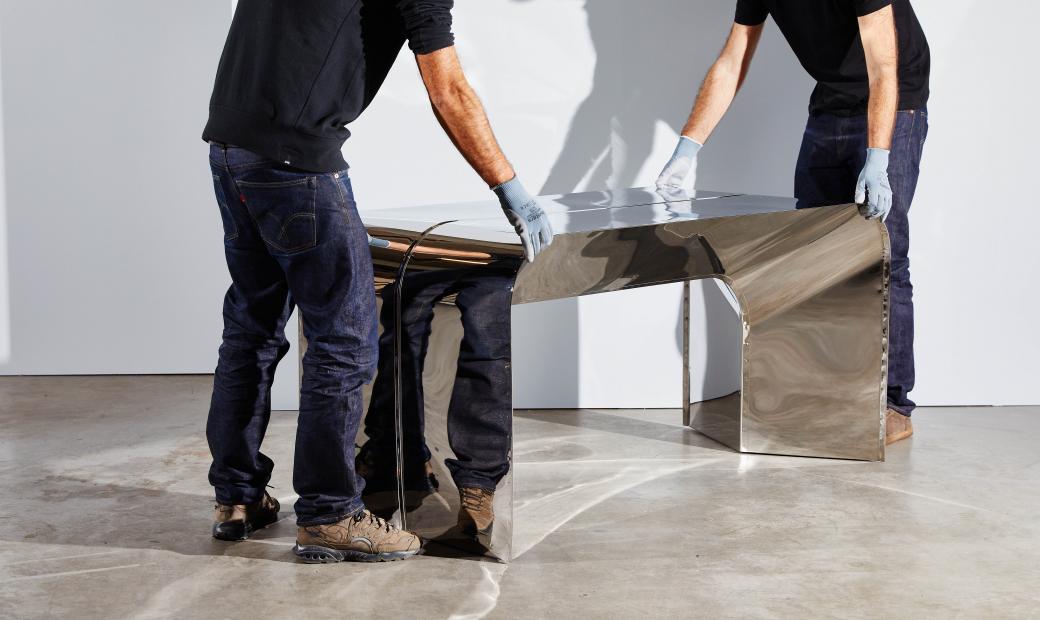 What's it like running a design studio as two brothers? That must clash sometimes as well. How do you maintain harmony and where do you complement each other?
At first, a feeling of pride! To do this together as two brothers is pretty special we think. But looking at the daily affairs, you indeed have to deal with all the stereotypical incidents as you are used to with family. And yes, sometimes even more extreme... Fortunately, we are both quite calm and understanding of character, so there is plenty of room for each other's opinions. And if it does set off, so be it! We are not consciously trying to maintain the harmony; we have just known each other for so long that we can immediately sense when one of us needs a little more time or space.
What best describes your work and where do you look for inspiration?
Our work usually derives from existing industry techniques. Especially large-scale industry techniques, where all processes have been perfected down to the very last detail. We then look for the right assets or elements that might be hidden to the everyday user, to turn it in to something special. But we are also keen on a good dose of cleverness in our final designs. We try to create our own signature, which is often a combination of clever production tricks and construction methods that achieve the maximum result with a minimal input. Finally, we think it is very important to balance the object and its use as a product. If customers buy a functional product from us, but ultimately find it too special to use, it says something about the emotion that is triggered by your work.
>
You mention that you mainly work on projects at your own initiative, or commissioned by clients. How do you come up with new assignments?
There is nothing we like better than spending time on our own initiated projects. And if that is also well received and sells well, it does feel like the perfect working scenario. Working on commissioned projects requires a different mindset, as you are, of course, more dependent on your client's wishes. But achieving a good result together with a client is also a good feeling. Especially, as the result is often something that we could not have imagined beforehand. So far all of our clients have emerged from exhibitions, publications and just spreading the word, which is working quite well for us. It allows us to keep our focus on design as much as possible, which is of course our greatest quality.
What's the craziest job you got from a client?
Setting up the entire production to realise five thousand Paperthin stools. Now that we're writing it down like that, it sounds even more insane than we thought it was at the time. In 2018, we were approached by an architect working on the development of a new expat area in Switzerland. He asked us to create 5000 stools. Unfortunately, this project never really got off the ground, but every now and then we still dream of such an absurd assignment.
If you were able to choose anyone in the world to work with (a designer, politician, artist, scientist or someone else), who would that be and why?
A total dream would be Leonardo Da Vinci! The ingenuity in all his creations, beautiful or not, could serve as inspiration at all times. And, in the current day and age, it would be a company such as "NAEF Spiele" that creates perfectly finished toys with a sophisticated dose of technology.
>
In your work you often get maximum functionality from minimalist constructions, yet always aesthetically appealing. How does your work relate to the design philosophy of the architect Louis Sullivan (1856-1924): Form follows function?
An appealing philosophy that we quite comfortably embrace. Yet, it is not entirely applicable to our own work. Given that our work often has a technique as a starting point, "form follows technique" would be a better saying for us. We are initially guided by the possibilities and restrictions of a technique, but later on, we usually shift our focus to the user and functionality. So, in a way, the initial philosophy is also connected to the decisions we have to make.
What would you still like to achieve with your work?
From a creative point of view, it seems like a wonderful milestone if one of our (future) pieces would be given a nice place in a museum. @MoMa; you know where to find us. From a business perspective, we would like to find a good work balance between the production of product series and unique, limited edition pieces.
Do you have any news you would like to share with the DDW community?
Absolutely! We recently welcomed our first employee! Koko, our 12 week old, not so hardworking French bull pup.
Hey Designer! Do you also want to be featured on our website? Use #heyddw on Instagram, and who knows, you might be next!