BLANK SPACE MAGAZINE portrays different creative makers in their workplaces while interviewed by colleagues. What fascinates, inspires and drives them to do what they do? Especially for ddw.nl, BLANK SPACE MAGAZINE edited the interviews into interesting short stories. Designer Esther Jongsma went to see designer Lotte de Haan and talked about following your intuition.
You have just returned from Zambia. What have you done there?
Lotte: I spent 5 weeks there working on a follow-up of the Salaula project I did in 2019 for the exhibition GEO-DESIGN: JUNK. In this project, I researched the trade in second-hand clothes from the West to Zambia. We throw away so many clothes here, and many people think it will help to donate them to the poor of the world. But behind the scenes, it's a tough trade. All the second-hand clothes that end up on the markets in Zambia, for instance, have replaced the local textile and fashion industry.
6 years ago, after an internship in Cape Town, I went to Zambia to work with artists to upgrade public space. I saw someone walking around in a soccer jersey. In itself, that wouldn't be so special, except that it was a shirt of the local amateur club from the town where I grew up. That jersey had made it all the way to Zambia and was sold to someone in the market. I was so intrigued that when the opportunity arose, I had to research it.
For the GEO-DESIGN: JUNK exhibition, I made an installation and a documentary that reflected on the trade-in second-hand clothes. I made it with market vendors and tailors in Zambia. We all worked together outside on the streets and the market in Zambia to make something, and then I took it all back to the Netherlands to exhibit it. Nothing remained in Zambia, and I didn't think that was fair. It kept nagging at me.
So I really wanted to go back, and this summer, thanks to the Modzi arts residency programme, I could finally do so. Together with ten tailors, we produced a collection using second-hand clothes as raw material. The problem is that it is all western apparel that is sent to Africa. It was not made for or by African people; it's not theirs. So we cut up the western clothes and used them to design a local fashion collection. Every tailor created a design, and in the end, we did a fashion show in the market. This project is theirs, and it will stay there.
I am curious about the effect of your work on people in the West. This is where the problem originates, that we treat our 'waste' so thoughtlessly. What do you want people to do after seeing your work?
Do you know what I find strange? Visitors of the exhibition tend to look at my work and say: "OMG, I didn't know this!" And then they look at me and ask: "So, what are you going to do about it?" Why me? Knowing what I know, they have become co-owners of the problem; they have just as much responsibility to respond to it as I. I don't like it when people say they can't do anything because the problem is too big. You can start with tiny things. Pay attention when you donate clothes, for example. Ensure there are no holes in them, that they have been properly washed, and that you only pass on quality items.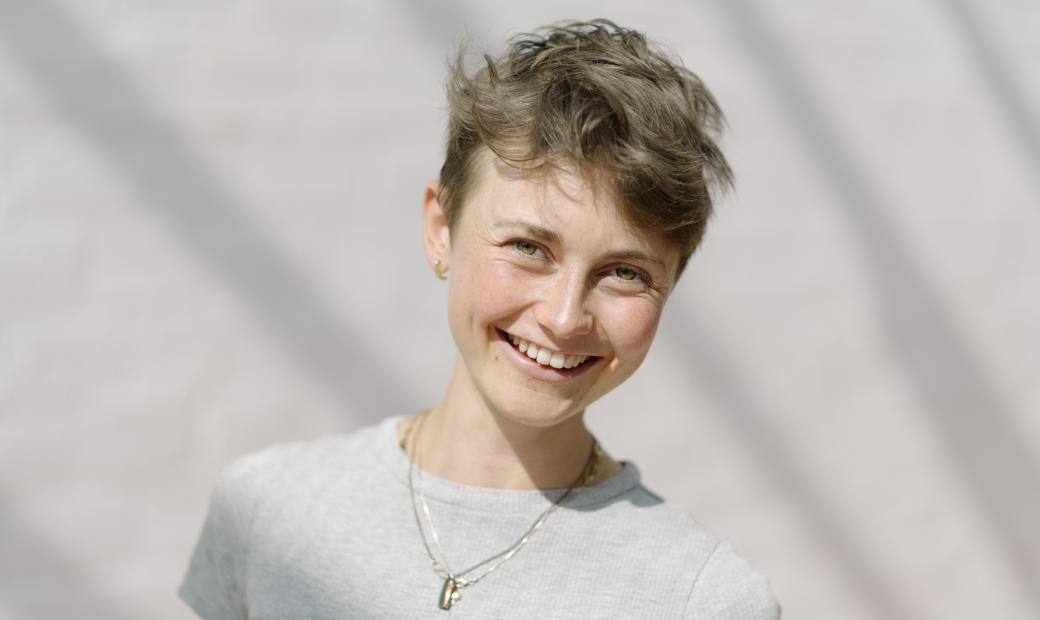 To me, the one person who learns something or benefits from the work matters more than the hundreds who see it in passing and do nothing. That is interesting because impact is often seen as reaching as many people as possible, especially by governments or grant providers.
Yes, exactly. We should place more value on a significant impact for a small number of people. I am currently working with Aurore Brard on the FysiekFabriek project, which looks at ways for people with severe physical disabilities to customise their own equipment. Some people's needs are so specific that a manufacturer won't produce the equipment because they can't earn money from a few customers. In the Netherlands, we blame the municipality: they should be helping people with such specific needs. In our opinion, it is better if we can give people more control. With FysiekFabriek, we link volunteers from the neighbourhood who are handy with tools to people with a physical disability to come up with the perfect equipment together. You will have fewer costs, less hassle and a much more significant impact on a personal level.
Did you always want to do this work?
Ever since secondary school, I knew I wanted to do something creative. I didn't know what, so I just started looking at art schools. At some point, I walked into the Design Academy Eindhoven, and I thought, "Yes, this is what I want!"
I was 18 years old and I didn't have a clue as to what design meant. There were all kinds of beautiful things and I wanted to try that too. So I applied and that's a funny story. I had to send in a portfolio, but the only portfolios I knew were the ones fashion models have. So I went to the academy to ask why they wanted to have these photographs of me.
For the next step of the application procedure, you had to bring everything you ever made. "Everything?" I asked. "Yes, everything you made." So I took all the crap I ever glued together in my life. My dad came along with the car to help me. He looked around at all the other people who were installing their work and said, "Lot, they all have really nice stuff ..." Well, I got in anyway.
At the academy, how did you develop into the social designer you are today?
During my studies, I kind of naturally started doing more and more social projects. I graduated in 2018 with two very social projects. Samsam, a programme that brings together seniors from care centres with newcomers in the Netherlands in a 'language café', and the project WaterWorks about water scarcity in Cape Town. After graduation, I didn't know whether to continue my studies, start a studio or work somewhere. Eventually, I started working for Manon van Hoeckel to learn how to work as a social designer. Again, everything happened spontaneously because I received assignments myself, and now I've been working for 3 years.
Your way of working, being so direct with people and giving them so much energy, is something that not everyone can do. Do you think it also has something to do with your personality?
I think my personality has a lot to do with it. Sometimes I don't like that. My work intertwines so closely with who I am that I find it hard to hand over projects. At the same time, I am someone who initiates many new things in a short period. I see opportunities everywhere, things I want to do. The challenge now is to make my work transferable. I talked a lot with Manon van Hoeckel about how to approach this. It has a lot to do with ownership of a project and who will continue it eventually. I have to involve this partner intensively in the project from the start. It is also a lesson in patience because I want to move very fast all the time, while I have to take other people with me and they might go a bit slower. I have to slow myself down sometimes.
What would you like to convey to society through your work?
I want us to live well, to be happy. In doing so, we must continue to think critically about whether all the systems we have built in our society contribute to that end. That is the basis of the work I do. I do it on location, together with other people, and with great pleasure. After graduating, I gave myself five years to try all this out. I think it's like driving a car: you only learn how to drive once you have your driver's license.