Each month we celebrate one of the most interesting, exciting, intriguing, funny or unusual #heyddw Instagram posts by featuring an exclusive interview in our online DDW Magazine. This month, we interviewed the colourful Jessica den Hartog!
Hey Jessica! Could you tell us in just a few words, where you come from and why/how you became a designer?
I am Jessica den Hartog, 26, researcher/designer from Utrecht, based in Maastricht. During my internship as a stylist I realized that I was a lot more fond of products and how they are made, so I went to art school to study product design. Now, in hindsight, I have learned that I am less concerned with the final result than with the journey to it. I enjoy the challenge of the process and it triggers me to discover something new each time. I base everything on innovative and circular thinking. I love to experiment every day. Being able to let go of what it is going to be and looking for guidance from the material and the discoveries along the way.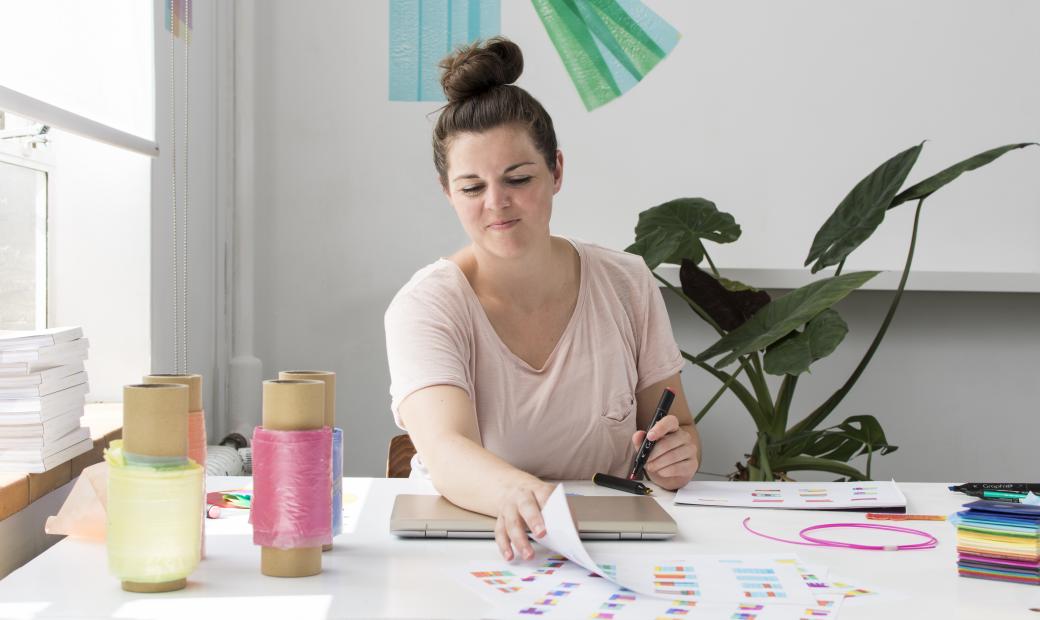 Your work focuses primarily on new approaches to working with (recycled) plastic. You shared a photo of your work with us and mentioned a number of new collaborations demonstrating the diversity and possibilities of recycled plastic.
How did these collaborations come about and what can we expect from you in the near future?
Now that the colour and materials library exists, I want to present the possibilities for this material in objects and products. I want to profile the richness of this material, it is not about a perfectly finished product, but instead the diversity of the material and its possibilities. This is going to require a lot of research, I have written to Stimuleringsfonds Talentontwikkeling (ed. Dutch funding programme for talent development) about this. Hopefully they will grant me the space to really dive into this with the industry and 4 other designers who have 'signed up' for this research. Research that will lead to a collection of objects and products.
What characterises you as a designer?
My colourful palette! The usefulness of my projects is always very important to me; it has to deal with a social topic that still needs significant change. Through balancing functionality and aesthetics I want to increase the applicability of circular plastics today. I want to develop a new basis / new way of working for myself, but also for others to work from. Which is why something like a colour chart is also part of the collection, this really grapples with the applicability of the material for our day-to-day colour palette.
What inspires you?
The process itself. I am not the kind of person who sketches with pen and paper. I just dive straight into the work with the material and the method. Observing what happens and how it can be used. I also read and write a lot, so that I can reread and question my own ideas.
What else are you working on right now?
Last year, I was not in my studio very often. I was on the road a lot for exhibitions and lectures. A fun and educational year, but I noticed that I was missing actually making things. Being able to completely immerse yourself in a process of discovering everything. That is why this year the focus is on creating new materials and objects. So that I can once again present a follow-on step for the materials library Recolored.
Which design, project or achievement are you most proud of?
The project Recolored, it was the first project during my studies where everything just fell into place. A discovery of a social theme, aesthetics and usefulness for the reinvention of daily life. I enjoyed this so much, and after graduating I saw so many possibilities that the project was far from finished, and will not be for a long time to come. The project has changed my approach to work in that I continuously see the challenge for developing myself and the material.
What is the most exceptional or remarkable thing you have ever designed/made?
The first thing that occurs to me is not necessarily something I made myself, but it is about me as a designer. Circular thinking about materials and objects is very addictive. The challenge is to get all the pieces to fit and the more I learn about it, the more I want to know about it. The process of circular thinking only serves to increase my love of it. Two years ago I knew practically nothing about chemistry and now I am addicted to continuing the development, who would have expected that?
What else would you like to achieve?
I hope that there will be many more international collaborations with designers, companies and industry. My preference for working with others stems from the way in which you can supplement each other's knowledge. And we can actually work on solving the 'plastic problem'. This is where I would like to develop and profile myself as a specialist in aesthetic circular plastics.
If you could choose one person in the world to work with (a designer, politician, artist, scientist or someone else), who would that be and why?
There are lots of people I would like to work with. I do not really have a list, but I just really like collaborating with others. I hope to meet an industrial party that gives me the freedom to immerse myself completely in circular plastics and their aesthetics. The opportunity to work on a large scale and challenge each other in renewing the material.
Do you have any news that you would like to share with the DDW community?
Trigger yourself to think circularly! A sequel to Recolored will be presented at DDW 2019 and 2020. What will it look like? You will have to wait and see, but it will be worth coming to admire it. Thank you for this interview and thank you to everyone who has stayed with it to the last line.
Hey Designer! Do you also want to be featured on our website? Use #heyddw on Instagram, and who knows, you might be next!