The creatives of Sectie-C, an Eindhoven based design hub, initiated BLANK SPACE MAGAZINE, a magazine that portrays different creative makers in their workplaces while interviewed by colleagues. What fascinates, inspires and drives them to do what they do? Especially for ddw.nl, BLANK SPACE MAGAZINE edited the interviews into interesting short stories. This week, the Italian yet Eindhoven based Michela Castagnaro.
Hi Michela, can you begin by telling us a bit about your practice?
I currently define my own practice as a process of understanding. At the moment I am working with Sander Wassink, managing the studio but we're are also doing some projects together. On a personal level I just try to do what I like. So just now I am experimenting with ceramics. I have always liked to paint and it's definitely something I want to keep doing. As opposed to my period in Milan, I have time now to pursue my own personal explorations.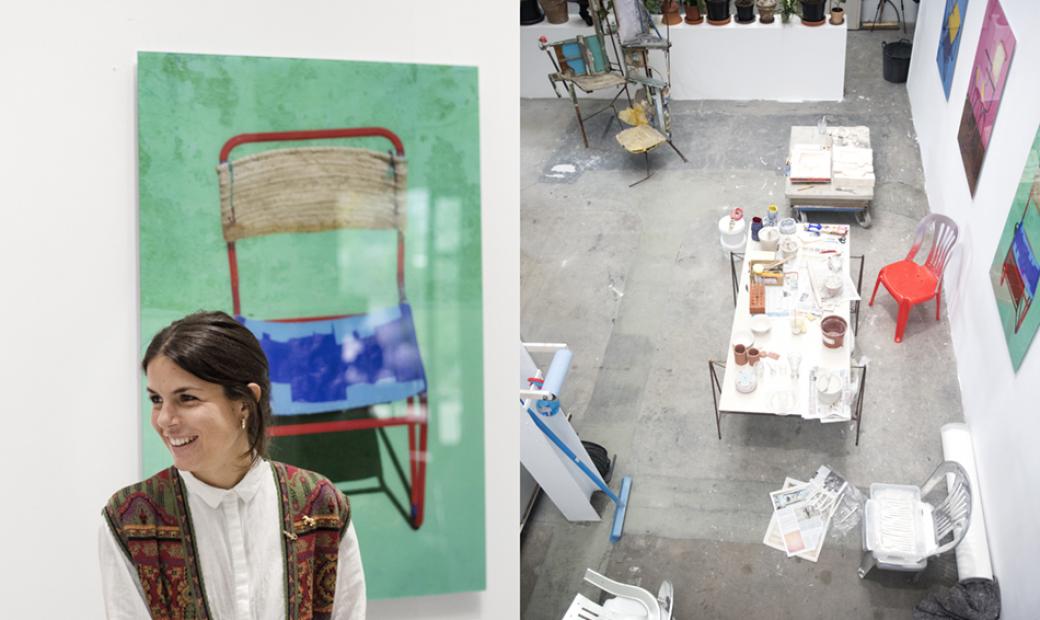 Talking about past experiences, what is your background?
I have a background in architecture, but early on in my career I realised that I did not want to be an architect. As a young graduate you don't have much certainty about what you really want or can do. That is why I didn't pursue a potential career as an architect, and I took another path. I subsequently moved to New York and gained experience working in an art gallery, where I managed different tasks. Alongside this work at the gallery, I assisted an Iranian artist with his projects. This connected two aspects for me, on one side managing and on the other creative freedom.
I fell totally in love with that place. I have never found the energy I felt there anywhere else ever again in my life. It was a completely fulfilling experience that guided my future positioning and work. Coming back to Europe was really heart-breaking because somehow I had to recreate that energy.
Once back in Milan I got an opportunity to work with Rossana Orlandi. I worked at her gallery for almost 6 years. We had a very good connection and I learned a lot from her. She has a strong personality and she is one of a kind. It was a great learning experience. After working with many designers and artists, at a certain point, I felt I was getting too much into the job of an assistant. I was missing the part of making things with my own hands.

Now I feel Eindhoven is my space. I don't set myself deadlines for my goals. So far I do what I like and see where it will take me.
So, are you in between managing and creativity?
The two individual parts cannot give you what both of them can together. It is about balance. You could live without a structure if you are creative, but a bit of structure introduces balance.

Where do you find your inspiration?
I​ always find inspiration in art. Some years ago I visited painting exhibitions every weekend. I even used to fly to art exhibitions I really wanted to see. I love to observe the colours and the brushstrokes, the impressions, the pigments and the quantity of paint. For instance I keep going back to Robert Delaunay and the composition of colours in one of his self-portraits that I find inspirational.
I also find old people very inspiring. I enjoy talking to them. They convey a feeling of trust and courage. Nature is another very important source of inspiration, its colours. You can fill your eyes with nature. I do not need to search for inspiration for very long.
Is the process of designing always a creative act?
Most people would think that design is synonymous with creativity, but in my opinion that is not a certainty.​ Some designers work very rationally. I find that approach a bit "cold" but that does not necessarily mean it can't be successful. A lot of designers have no creative freedom in what they do and in a way this absence makes it easier to work with these kinds of professionals. In my experience, managing creative people is not easy. You need great patience. On the other hand when you work in collaboration with someone, you really have to find a way to connect. People who are highly creative are very sensitive about their work. You have to understand their bubble. The relationship is a sensitive one from both sides. It is a kind of relationship that must be found not by bursting that bubble, but by creating a new one employing both perspectives.
>
To whom do you direct the work you do?
Working from the gallery side showed me that your intentional target could often have nothing or very little to do with the people that might buy your work in the end. If you want to do something, you have to do it because you believe in it. You have to create your space and shape the world to place your things within.
The connection with people is something you just simply can't control. Actually, who are the right people? Are they those who give you the money to continue to do what you like in your life? Or the ones who love what you do and think you are a sensitive person, but do not have the money to buy your work? If you are not working in a company, perhaps you should not think about targets. You should just keep doing what you love. If you do it with kindness, with your feelings and with your passion, then someone will stop by and pay it attention.
To conclude, you talked a few times about balance between extremes. Is that something you value in your work?
It might be because I look for balance for myself. Would you say I am a balanced person?

I am a very sensitive person. So keeping my emotions in balance is something I find important. When I create something I always try to release the power of my emotions. I think balance is important for everyone, your own balance and that of the world out there.