Each month we celebrate one of the most interesting, exciting, intriguing, funny or unusual #heyddw Instagram posts by featuring an exclusive interview in our online DDW Magazine. This month, we interviewed contemporary craftsman Ward Wijnant!
Could you briefly describe who you are, where you are from and why you became a designer?
As a child, I wanted to be an architect just like my father. Around the age of six it appeared that I suffered from a serious form of dyslexia and dyscalculia. Consequently, throughout my childhood I 'was forced' to focus completely on my creativity. After finishing prevocational school, I attended the Wood and Furniture college in Rotterdam. I became especially fascinated by old methods, the subtle refinement of various timbers, the solid joints and the artisanal work. During my course I gained work experience with Kiki & Joost and Maarten Baas. In the course of these work placements I discovered that pieces of furniture can carry a story, can inspire and move the 'user' in some way. I wanted to give a more artistic meaning to craftsmanship, and I applied for a place at Design Academy Eindhoven. I graduated successfully there too and since doing so I have had my own workshop in Tilburg.
What best describes you as a designer and where do you look for inspiration?
Increasingly often, contemporary design treads the path of an inventor of an object outsourcing the manufacture of it to machines or computers. With my objects I want to show the origins of our profession: the craft, the real makers. I see it as a mission to interpret the diversity of old methods and materials in ultimate, contemporary design that pays attention to detail and finish, as well as a historical understanding of the original artisanal mastery. I draw inspiration from the construction of traditionally made objects, how the materials are handled and how secure joints are constructed. Artisanal methods combined with versatile materials embody a particular aesthetic. This is exactly what I want to show in my designs: how the materials and the way in which they are processed influence the shape. I want to show materials from a new perspective and with a fresh look at ancient craft techniques.
What is the most special or remarkable work you have ever made or designed?
I believe that is my collection of TWISTED-Functionals (walker, fence, etc.). I wanted to show how infinite and surprisingly applicable the possibilities for TWISTED are in a playful way.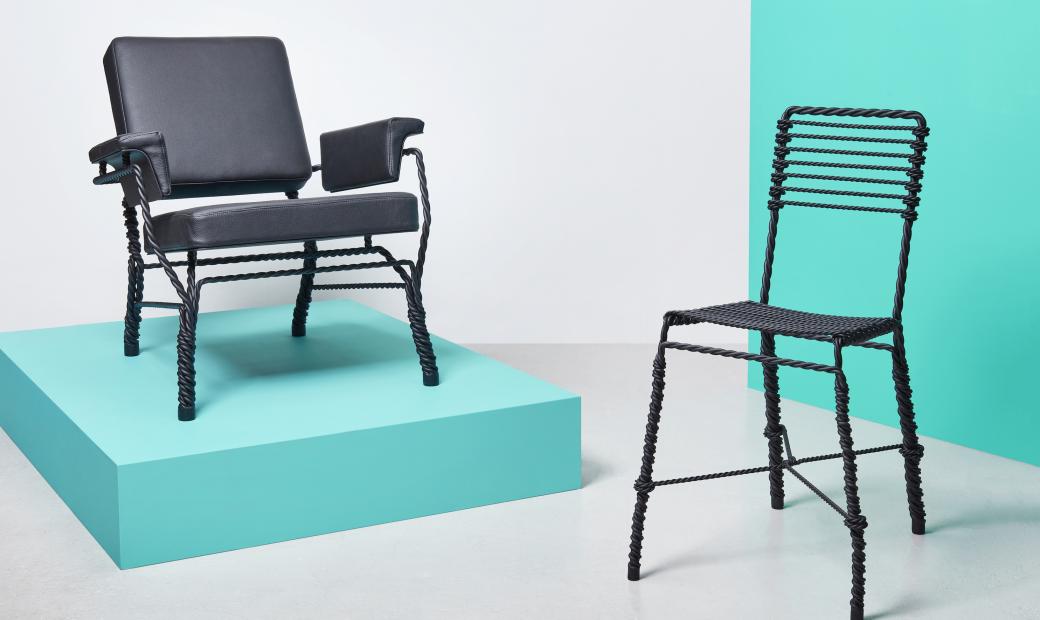 How did the Twisted collection come about?
TWISTED originated from me playing with copper wire, from which I usually made my models. I used an electric drill to straighten the wires. To reinforce the wire, I tried this with three. I became fascinated by the connections that the copper wires made with each other and foresaw a new method of connecting. From here I created metal connections that can join with countless objects. Employing manual forging techniques, I challenged the power of steel and pushed the limits of the material (I also call it Man versus Steel).
You enjoy pushing the boundaries of materials and shapes, where does this desire to experiment originate?
Apart from just being curious by nature, I believe that experimentation is an important part of the process in arriving at a new design. It maps out possibilities and challenges. It draws you out of your comfort zone, so that the material gets an opportunity to surprise and inspire you.
Are there materials with which you would still like to experiment?
I don't really know. I am currently heavily involved in the development and expansion of BLEND.
What would you still like to achieve with your work?
I think I still have a lot to achieve, because I am only just starting out on my career. I hope to be able to work together with beautiful galleries, fairs and possibly museums. I also hope to be able to release many more collections.
If you were able to choose anyone in the world to work with (a designer, politician, artist, scientist or someone else), who would that be and why?
I am really inspired by the work of sculptor and architect John Körmeling. It is especially beautiful when art and architecture meet. I also appreciate the humour in his work. My city, Tilburg, has acquired some of his great pieces.
You were at Plan-B last DDW with your project BLEND. What was the most fun?
At every exhibition, so not just DDW, it is great to receive direct feedback about your work. Hearing from the responses that people like it, is always nice.
Where else would you like to present your own work?
I would like to collaborate with my favourite modern art museum De Pont in Tilburg. I came here regularly as a child and I would love to see my designs here.
What advice do you have for up-and-coming talents?
Be true to yourself, do what you like doing.
Do you have any news you would like to share with the DDW community?
You'll find out soon enough! Stay tuned!
Hey Designer! Do you also want to be featured on our website? Use #heyddw on Instagram, and who knows, you might be next!