Through presentations by both established and new designers, design labels, young talents, design students and recent graduates, Dutch Design Week (DDW) lets you discover the future of the (design) world. Although the name may suggest otherwise, DDW is certainly not only for Dutch design. Every year, the week becomes more international, both in terms of visitors as well as participants. As a result, you will find more and more different participating foreign design academies.
This year's participating schools made it clear that a new generation of designers is ready to change the world around them
The combination of Dutch and international schools offers a wide-ranging picture of design education in different countries. The works of this new generation can be found in thoughtfully selected exhibitions. For many of them it is a first step into the world of design and exhibiting. In line with the theme of DDW19 'If not now, then when?', this year's participating schools made it clear that a new generation of designers is ready to change the world around them. In this article we will highlight a number of international schools.
>
Central Saint Martins, London
In VEEM, the prestigious Central Saint Martins school presented the exhibition United Matters. The name of this one-time collective described the work of the graduates of the master's programme Material Futures. These freshly graduated designers presented work at the cutting edge of craft, science and technology and looked at the impact it has on the future of our society. By means of design, the collective wants to unravel complex problems and formulate a solution with a focus on the world of today and tomorrow.
>
Burg Giebichenstein, University of Art and Design, Halle
The graduates of Burg Giebichenstein University also presented different perceptions of the future and investigated possible ways of future living. Humankind is responsible for the future of our planet, but how do we live up to that responsibility? In eight practical experiments, the students explored how human civilisation should reposition itself on this planet. Through dialogues with animals, speculative scenarios, unstable matter and artworks looking for an identity, they invited the visitor to take part in a number of challenging thought experiments. Of course, the visitor was not alone: There were assisted by Fiffy the robot. When looking for alternative solutions robotisation and artificial intelligence can support us to a greater extent than we think. Fiffy helps us to take the first steps in this direction.
Royal College of Art, London
Besides all of the group presentations of the above-mentioned schools, you could also find several individual presentations of recent design graduates from abroad. For example, the work of Nicole Stjernsward, who recently graduated from the Royal College of Art. Nicole showed her project KAIKU Living Color, an experimental system that extracts colour from vegetable waste. This natural dye can then be used to colour paper and textiles and presents a sustainable alternative to the synthetic colours made from petroleum.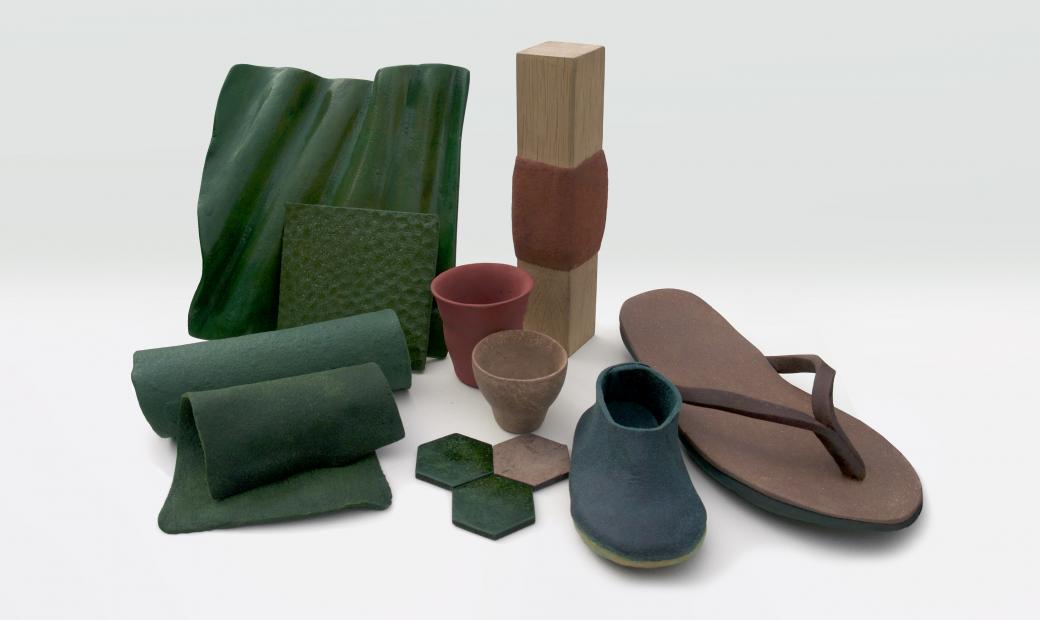 Mira Nameth, another designer who recently graduated from RCA, also implements vegetable waste in her designs. Her project Biophilica showcased solid but flexible materials made from local waste. These recycled materials are suitable for use in all kinds of products, from coffee cups and slippers to flowerpots. In her exhibition, she showed a number of possibilities for these materials to be used to make the world a little better.