Each month we celebrate one of the most interesting, exciting, intriguing, funny or unusual #heyddw Instagram posts by featuring an exclusive interview in our online DDW Magazine. This time, we talk to steel fanatic Luuk van Laarhoven.
Could you briefly describe who you are, where you are from and why you became a designer?
My name is Luuk van Laarhoven. I come from Eindhoven and have lived and studied in Noord-Brabant for most of my life. That I am a designer is actually the result of several studies that I followed, such as architecture, photography, art school and Design Academy Eindhoven. I certainly did not finish them all, but I did find certain aspects that suited me. Design turned out to be a perfect combination for approaching a subject conceptually and then, usually, flesh it out in a physical object.
What best describes you as a designer?
My work always contains traces of nature and then mainly of natural processes. I often research a process with a single material, looking for valuable characteristics that appear naturally in the material. For example, the discoloration of metal when it is heated, and an oxidation process occurs.
Where do you look for inspiration?
Mainly from nature, the processes for example. But also colour, smell, proportions. And yes, trees are fantastic of course.
What is the most special or remarkable work you have ever made or designed?
I once carved a urinal from a huge tree trunk with a natural water reservoir, so that the urinal was always gently flushing. I thought this was a nice idea, a long time ago when I was at art school...
This year you presented your project Burned during DDW at Piet Hein Eek. How was that received?
That went very well, nice light space and my work stood out very nicely there. The collection was just finished so it's always interesting to hear reactions and opinions.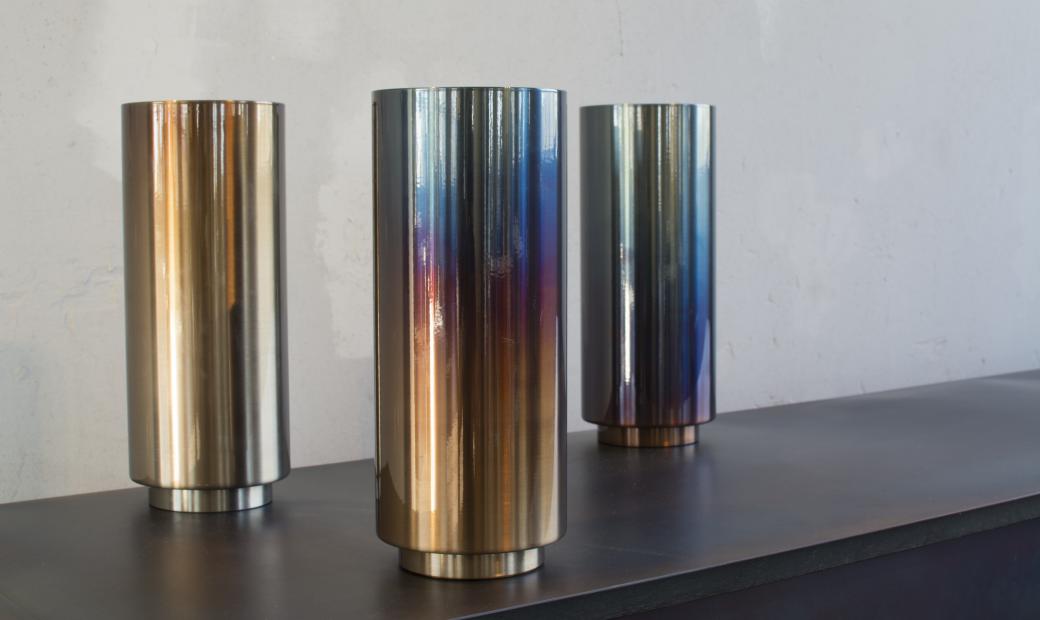 How did the Burned collection come about?
The Burned collection actually originated as an extension of my graduation project for Design Academy Eindhoven. In this project, The Big Rock, I researched the Drenthe landscape and most specifically the megalithic tombs. How did those stones get there, who made these megalithic tombs and why? Following in-depth research and questioning I learned that many fires had been lit in these tombs, which affected and discoloured the stone. I photographed the landscape where these megalith tombs are found, and I tried to match the most predominant colours from the landscape with the discolouring that also takes place in steel. Think for example of grain-gold.
Warping colour seems to be an important aspect in your work. Why do you feel the need to experiment with this?
Something happens when steel is heated, which at first glance seems unattractive and which you would prefer to avoid. So, I have always considered this as unattractive and a negative consequence of welding metal. Until I asked myself what actually happens when this colour is created, and could it be prevented or manipulated. The latter was the case and after eighteen months of experimenting and testing, this negative and unattractive phenomenon has become something beautiful and useful. That is what makes testing and experimenting so cool.
You work with steel a lot. What other materials do you have on your wish list for future designs?
The Burned collection is indeed based entirely on steel, but I also work a lot with wood. My very next project, with colleague designer Steven Banken, will research the strength of timber.
If you were able to choose anyone in the world to work with (a designer, politician, artist, scientist or someone else), who would that be and why?
I have always considered Giuseppe Penone's work to be very special and it was actually my first introduction to the art world. His use of material in combination with shape and concept is very powerful.
You have been an independent designer for about 3 years now. What do you want to achieve with your work in the coming years?
I would like to keep my projects as varied as possible. Collaborating with other designers or companies can also be really fascinating.
Do you have any news you would like to share with the DDW community?
Next year I hope to present the new project, the strength of timber, so keep an eye out.
Hey Designer! Do you also want to be featured on our website? Use #heyddw on Instagram, and who knows, you might be next!