Each month we celebrate one of the most interesting, exciting, intriguing, funny or unusual #heyddw Instagram posts by featuring an exclusive interview in our online DDW Magazine. This time, the anonymous machine-graphicist: Antigoon!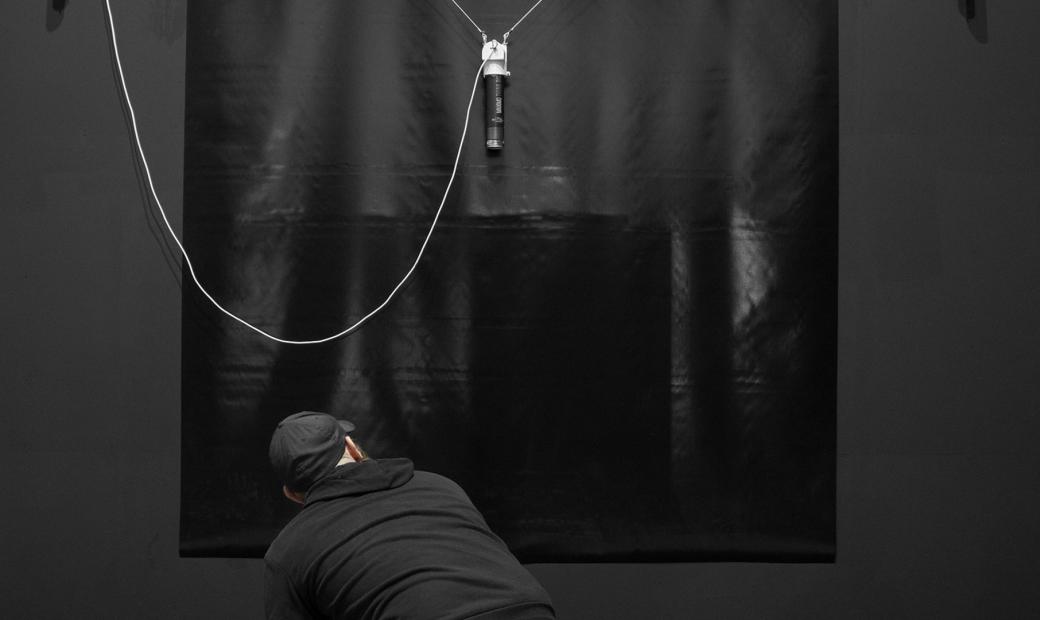 Hey Antigoon! Could you briefly describe who you are, where you are from and why you became a designer?
Hey, I'm Antigoon, I grew up in a small village in the south of the country. After drifting around various cities in the Netherlands I am now based in Eindhoven. As a teenager, I was kind of obsessed with graffiti, so after leaving secondary school - when I had to decide on a course for further education, I quickly found my way to graphic design. After finishing my graphic design course, I went on to study communication and media design in Breda.
We know very little about the person behind Antigoon, what is this anonymity about?
I'm not someone who likes to be in the spotlight or talk a lot about myself. I really don't think that it's that important either. The work is important, the person behind it much less.
What best describes you as a designer?
I would probably call myself a creative developer with a fondness for graphic design and the Graphic Machinery project is actually my playground, a side project where I can explore things that I find difficult to incorporate in my jobs as a web designer. With web design, everything generally needs to be delivered pretty tidy and in place otherwise it just doesn't work, but this project is all about experiment, hacks, mess, perfect imperfection and fun.
Where do you look for inspiration?
I spend a lot of time looking at graphic design, illustration and graffiti and draw inspiration from this, but music is also a great source of inspiration for me, especially with regards to approach. For example, electronic music musicians who build their own synthesizers or write their own software to create their own sounds and rhythms. But I also find punk interesting, because there is a certain beauty in the simple structures and inadequacy with which people write songs.
>
In your work, you combine both analogue and digital. Why are you so interested in this combination?
Analogue and digital both require a different approach and combining them is plagued with problems. New challenges arise of their own accord as a result. I get bored fairly quickly, so I can switch between different disciplines like electronics, programming and design. This holds my interest.
For your Graphic Machinery project, you let machines work with tools designed for human use. What is this all about?
The use of these tools comes mainly from experimenting with the first pen plotter I had. At one point I started experimenting with chalk and charcoal. These traditional materials had an alienating effect on the results, a certain rawness and imperfection you wouldn't expect from a machine. Because of this unconventional process I never know exactly what the result will look like. It is a collaboration between me and the machine, the machine sort of compels me to reconsider my design. What type of design creates an interesting result?
What is the most special or remarkable work you have ever made or designed?
That has to be the Polargraff machine for Lowlands last year. It was actually two machines that used cans of spray-paint to make drawings on a tower 12 metres high by 4 metres wide at the festival. Before that, the 'largest' machine had a range of about 1.5 meters by 1.5 meters, so the Polargraff machine was exponentially larger.
If you were able to choose anyone in the world to work with (a designer, politician, artist, scientist or someone else), who would that be and why?
Outsider, Jason Revok or Gary Stranger. All three graffiti artists whose work I still find interesting after many years of following them, I think because of the directions they have taken.
We are on the brink of a new decade, a good time to speculate about the future. How do you think the cooperation between man and machine will change in the future?
Yeah, that's funny. I'm quite a doomsday type when it comes to thinking about men and machines in the future. Especially in the field of artificial intelligence and facial recognition. My thoughts quickly wander off into dystopian worlds like 1984, Neuromancer and Do androids dream of electric sheep.
Do you have any news you would like to share with the DDW community?
At the moment I have some space to develop and experiment with new things, so keep an eye on my Instagram page if you want to follow me.
Play video
Hey Designer! Do you also want to be featured on our website? Use #heyddw on Instagram, and who knows, you might be next!