Every other week we celebrate one of the most interesting, exciting, intriguing, funny or unusual #heyddw Instagram posts by featuring an exclusive interview in our online DDW Magazine. This time, we chatted with the virtual and international architect duo behind Visual Citizens: Shali and Adam Kelly.
Hi Shali and Adam! Could you briefly describe who you are, where you are from and why you've started your design studio?
I (ed. Shali Kelly) am from South Africa and Adam (ed. Kelly) is from Scotland. Our paths crossed in Barcelona where we were both doing an internship in an architecture office. I was there on a scholarship while doing a Masters in Architecture in the US and Adam was doing a year out after his undergraduate degree in architecture in Scotland. We both have a fascination with visuals, during architecture school drawings are always important as of course we are not building anything – we need to be able to capture someone's imagination instead through the graphic presentation of our designs. Even after school we were both very interested in this element of architecture and we worked in different architecture studios where we learnt about representation of ideas and concepts. We took some time off after studying and spent it traveling in South Africa, this time we were able to truly explore what we loved most - creating surreal immersive visuals. In 2018 we started sharing our work online, and everything grew from there. We officially became Visual Citizens at the beginning of last year.
Your studio has quite a unique take on design. Can you explain a bit about your work?
I would describe our work as being surreal immersive visuals. Digital design allows us to participate in a medium not constrained by the usual architectural restrictions. We are able to fully immerse ourselves in the complete design of a space - designing sculptures, murals, unusual spaces and lighting them in a dramatic or unnatural way. We like to imagine how traditional spaces could be considered differently. For example, what might a living room look like in the future?
Where do you look for inspiration?
One of our favourite sources of inspiration has always been modernist architecture, we love the works of Le Corbusier, Mies, Saarinen, Loos, and Kahn amongst others.. However, our work only partially reflects that style of design as we try to translate the lessons we have learnt from Modernism to something more playful through an expanded material selection, wider colour palette and whimsical objects.
So last DDW, you were part of VPRO's ABC of DDW, a video in which they tried to explain the difficult language of designers. You guys used the word 'phygital', a self-made word that describes a crossover between the digital and physical. You can see the interview in the video below.
In current corona times, 'phygital' might be more relevant than ever. What do you think the current developments and increasing digital presence will mean for design in the future?
Our world feels increasingly digitised and inevitably distant from its primitive origins. Many untouched landscapes are lost every day to man's damaging interventions, usually to draw natural resources for energy or fabrication materials. To demonstrate this reality, our exhibition at DDW last year was a multisensorial experience featuring a fusion of both the natural and the unnatural. Visualisations, furniture, objects, and sounds are assembled to create an immersive, inquisitive experience. We wanted visitors of the exhibition to relax on the Lilypad sofa, immerse themselves in the space and reconnect with a 'phygital' experience of nature.
We are currently exploring the intersection between physical and digital. We feel that the design world is in a unique position. Digital media is becoming increasingly important as well as more immersive than ever before, and this digital world that is developing around us will need to be designed. We love to imagine what the future will hold for design. For us its interesting to push the boundaries between our different disciplines. We feel that the virtual is increasingly becoming a more legitimate design medium, and the more that our work got exposed online the more we realised that it was being appreciated simply as an 'art'. When visualizations go beyond simply being representations and towards being a piece of work within themselves then they become visual art in the same way as a painting or illustration is.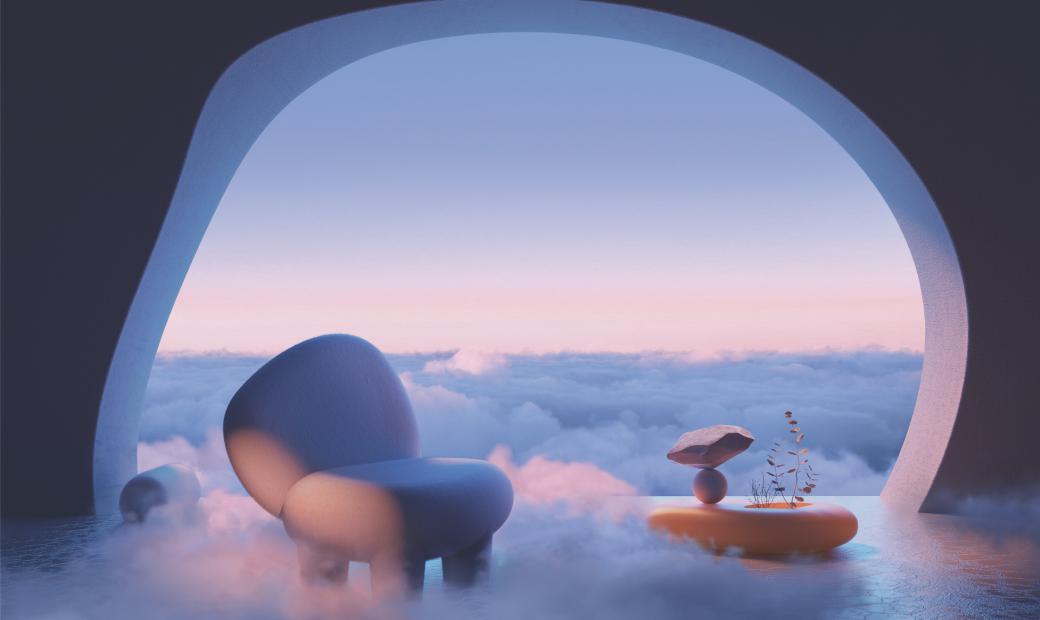 Looking at your Instagram and the image you shared with us (ed. image above), some of the digital spaces you design would make fantastic physical living spaces for the design daring among us. Do you ever feel the urge to physically produce your work?
Yes, we would love that. For some reason we are often imagining that these spaces are ones that somehow exist in the future and we think 'visions of a future' have the potential to change the way we work and think about spatial design, whether they are real or virtual. Digital visualisations give us an immersive glimpse of ways to design for the future, and what that future might hold. We like the idea that by making these imagine spaces we can create something that would otherwise be unimaginable, at least at the moment.
>
If you were able to choose anyone in the world to work with (a designer, politician, artist, scientistr someone else), who would that be and why?
It would be the Dutch garden designer Piet Oudolf. We are fascinated by his work. We were lucky enough to visit his garden at his home last year, where we were able to see how he works with plants as a (natural) artistic medium. We then knew we wanted to explore natural elements such as clouds, water, flowers within the digital world.
Hey Designer! Do you also want to be featured on our website? Use #heyddw on Instagram, and who knows, you might be next!