Every other week we celebrate one of the most interesting, exciting, intriguing, funny or unusual #heyddw Instagram posts by featuring an exclusive interview in our online DDW Magazine. This time, we spoke to Bruno Baietto, a Design Academy Eindhoven student with his roots in South-America.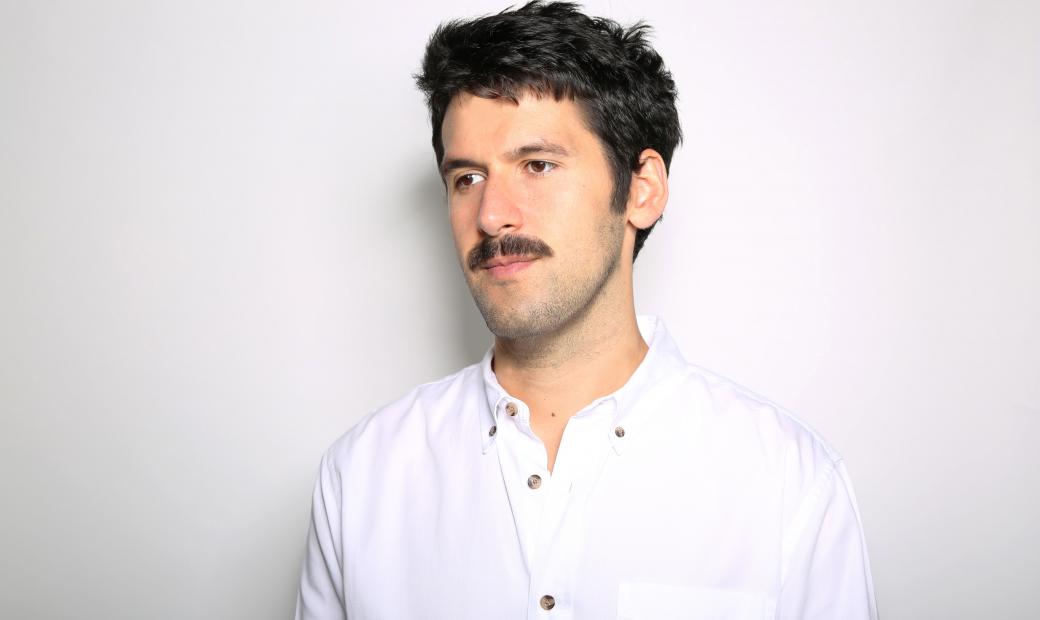 Hi Bruno! Could you briefly describe who you are, where you are from and why you became a designer?
I am Bruno, I'm originally from the border between Uruguay and Brazil and I have worked as a product designer and visual artist over the past years. I have studied design in Montevideo and visual arts in Rio de Janeiro. So, I consider my practice the 'lovechild' of my experiences related to the agreements and conflicts between these two different disciplines. Still I owe my interest in design to my heritage. I come from a family of bakers, which is why I enjoy making things from scratch.
You used #heyddw on Instagram to share your latest project with us, a tapestry of melted plastic flowers. Can you tell us a bit more about it?
This project is called "The earliest flowers to bloom in spring are those which stay at home forever", which I made for my studies at Design Academy Eindhoven right before the quarantine started in early spring. It is an ongoing research on objects and materials associated with class division and gender performativity. In the case of plastic flowers, the imitation supersedes its representation making it an interesting artefact to discuss complex topics such as beauty and class based on their materiality. Imitations, such as plastic flowers, own inherent beauty and material qualities. Through twisting them and putting them in states of material conflict compared to their original use they can unveil new characteristics as well as their own identity.
>
What best describes you as a designer and where do you look for inspiration?
I'm interested in the ideological frameworks of what shapes the perceptions of what is true, real or beautiful. And how to analyse and understand our material reality from those different worldviews. I get inspired by contradictions. Rather than showing the failure in meeting its initial purpose, I believe that when something contradicts itself it shows a layer of reality that we are not supposed to access directly. In this sense for me design works as a tool to explore this. I love chasing contradictions and creating new errors in our perception of materials, systems or behaviours, sometimes inducing chaos and sometimes translating them through humour.
How did you end up studying at Design Academy Eindhoven?
I heard about Design Academy Eindhoven many years ago when I was still a bachelor student in Uruguay. I was intrigued by the experimental and layered qualities of the projects I had seen. The academy looked like an interesting opportunity for me to learn how to embrace a hands-on process and learn how to reflect critically on my own practice. So, while working in Brazil as a designer, I applied for the MA Contextual Design department. Working directly in the workshops and employing thinking through making has been an important part of the course which is a constant reminder of the responsibility of our decisions.
In response to the emerging coronavirus, many design events are cancelled. As you're still in the midst of your studies, what impact has it had on you so far and how do you look to the future?
I believe that the pandemic is forcing the whole design community to reframe their practice for good. It is true that many design events are cancelled, which affects the main core of the design economy and forces professionals and students to adapt. But coming from countries such as Brazil, who are deeply wounded by the socio-political implications of the pandemic, it is impossible not to question what the urgent matters are. The current situation has aroused structural problems asking for immediate action in all practices. It depends on us, designers, to forge a path forward. Topics such as the lack of diversity in design, both in design practice and in design education, as well the financial instability of students and professionals are issues of a system that needs to be redesigned on all levels. I want to believe that this moment serves as a guideline for the years to come.
What is the most special or remarkable work you have ever made or designed?
Since I am just getting started as a designer, I believe this will happen in the near future. But earlier collaborations I worked on, such as the public installation Can you tell me a secret? and the Dancing Pavilion for Rio de Janeiro Olympics, were fun projects to work on.
What are you currently working on?
At the moment I am working on a series of ceramic pieces and discussing furniture design proposals. Besides, I'm starting my thesis research for the second year of the MA.
If you were able to choose anyone in the world to work with (a designer, politician, artist, scientist or someone else), who would that be and why?
I often admire artists and designers that address great visual or conceptual complexities from an understandable and engaging approach. Working with Ryan Gander, Nacho Carbonell or Rupaul would be a fantastic experience.
Do you have any news you would like to share with the DDW community?
I am constantly updating my Instagram and will soon launch a new website to showcase my new material experiments and projects.
Hey Designer! Do you also want to be featured on our website? Use #heyddw on Instagram, and who knows, you might be next!