Every other week we celebrate one of the most interesting, exciting, intriguing, funny or unusual #heyddw Instagram posts by featuring an exclusive interview in our online DDW Magazine. This week, Design Academy Eindhoven Graduate Roee Ben Yehuda! Is he a designer? An artist? A craftsman? Decide for yourself...
Could you tell us a bit more about yourself, where you are from and why you started designing?
My Name is Roee Ben Yehuda, I'm 26 years old, currently living and studying in Israel. In the past semester, I attended Design Academy Eindhoven as an exchange student and took part in the ceramic minor.
My passion for design took many different forms throughout the years. It started at a young age with fashion, when I started collecting sneakers, researching brands and fashion designers, and eventually starting my own small label. As I got older my love for graffiti turned into a fascination with graphic design, which led me to work as a magazine designer and art. But after several years, I decided to look for a new way to express myself. Having an increasing interest in ceramics, I got a spot at a local studio and started learning about clay and pottery. The journey through all those disciplines made me keen to dive deeper and get an extensive formal education in design, which is why I enrolled in an industrial design degree.
Throughout my projects, I have always been intrigued with material research, the combination of different disciplines, and innovation. At the same time, I have tremendous admiration for crafts, natural materials, and knowledge that had been passed on from older generations.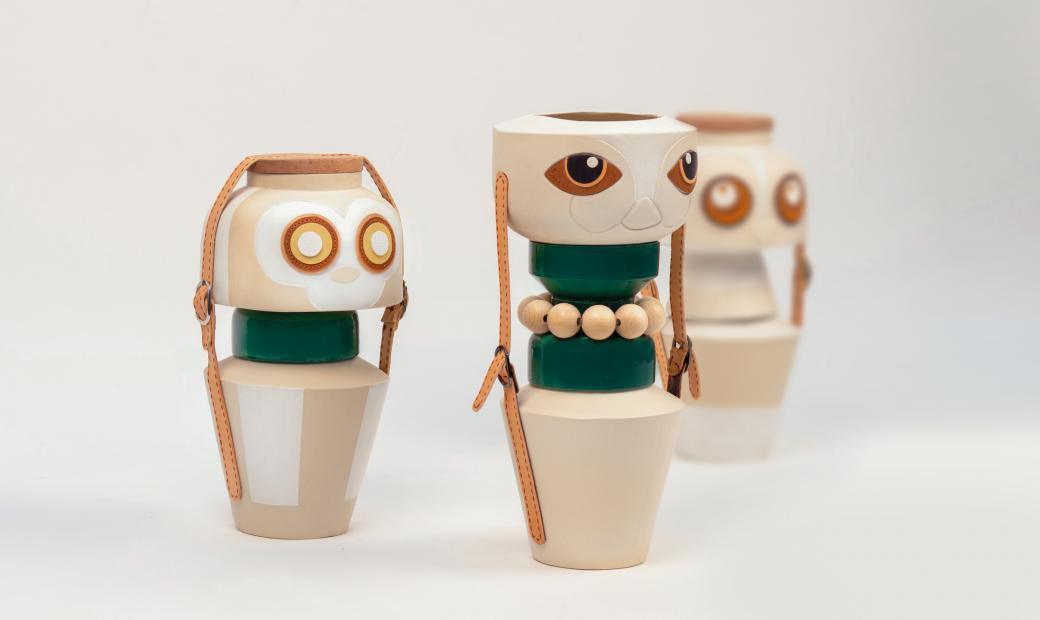 By using #heyddw on Instagram, you shared your project Aoyama Jungle with us. Can you explain a bit about the project?
Aoyama Jungle is a sculptural project that unites three of my favourite materials – Ceramics, Leather, and wood. It was one of the first projects that I took on thinking about my true passion. What am I most excited to create, to see take shape?
The name derives from the Aoyama Neighborhood in Tokyo. A neighbourhood I visited, that's filled with harmony: between east and west, contemporary and traditional, street and high end. I tried to incorporate this experience into the objects, blending various crafts and materials in synergy, making objects that are between simplistic and illustrative. It was quite a meticulous project; all the ceramic pieces were hand-carved, and all the leather inlays hands stitched. I like the idea that there was so much time, effort, and know-how required to make those objects, but they don't serve any functional need. They're just there in their quirky way, maybe making someone's day better.
Your work is quite diverse. From handmade pottery to graphic design, to sleek product design. How would we recognise a typical Roee Ben Yahuda?
Indeed, I try to keep my portfolio as diverse as possible. Doing so, I think it's hard to have a unique distinguishing factor across all my projects. Sometimes it's an advantage because it gives me the freedom to go wild and test the limits of what I'm capable of. Yet, sometimes I feel like I would like to have a more distinctive style. That said, I think what I try to convey in most of my projects is this juxtaposition between craft and design, blending tradition with technology, while keeping everything light-hearted, quirky, and not so serious.
Where do you look for inspiration?
Over the years, I think I tried to absorb as much as I could within every discipline, documenting and archiving references from each field. I like when something comes up from a completely different background and finds its way into my project. I also like looking at the past, seeing the way we developed technology and fabrication throughout the years, and thinking if there is something we filtered out on the way, that we can re-introduce and bring back its former glory.
We are very intrigued by your (very aesthetically pleasing) Instagram account Car Handles. What's up with that?
@carhandles is an ongoing project I started a few years ago when I started studying Industrial design and had to make the shift from thinking in 2D to thinking in 3D. Three-dimensional aesthetics require a completely different way of thinking, new tools, and a different learning curve. I felt out of my comfort zone, but this conflict between thinking two-dimensionality and three-dimensionality fascinated me. I wanted to take this thought and translate it into a personal project that would accompany the learning process, and that I could project ideas and thoughts onto from studying in the Department of Industrial Design.
The project I chose to do is a typological one, inspired by the photo series of the couple Bernard and Hila Becher. The handle of the car door is an everyday, functional object: it is just there when we need it, and then disappears from our sight. It interested me because, during my studies, I suddenly realised how much time and effort goes into its design. The project continues to exist on Instagram. I do not know when it will end, but it continues to teach me something different every day: sometimes about how to keep up a project, sometimes about design and morphology, but also how to develop something valuable from the most obscure thought that goes through my mind.
You come from Israel and moved to NL to study at Design Academy Eindhoven. What took the biggest adjustment?
I think the contrast was pretty bold, coming from Israel where my studies are really focused on teaching us how to be a skilled product designer and acquiring the necessary experiences for that end, to the Netherlands and the Design Academy that has a more relaxed, concept-driven approach. It took some getting used to, but ultimately I loved the freedom to create and experiment, and the fact the Design Academy is composed of so many talented students from various nationalities. it was really an eye-opening experience and I can't wait to go back.
If you were able to choose anyone in the world to work with (a designer, politician, artist, scientist, or someone else), who would that be and why?
Oh, that's a good one... I like the idea of working beside a master craftsperson. Learning from someone that has his\her life devoted to a craft or a technique is an astounding experience and, to me, the best way to really learn and earn skills. Another interesting collaboration I hope will happen one day is with a luxury brand that makes really high-end, serious and well-made products. I would like to be that guy that puts a whimsical touch into their objects, making them more friendly and less serious. And last but not least, I really like what Jaime Hayon is creating, his approach, the way he describes his design process. He also appears to be really into good coffee, so I'm sold.
How has the pandemic affected your work so far? How do you look back on the past year?
Of course, like all of us, this past year didn't go as planned to say the least. Many projects didn't quite reach the originally intended endpoint, and that was a good exercise in taking things more easily and trying to let go of my own expectations. However, when I'm looking deeper into it, I think of the pandemic as some sort of a renaissance. It made me feel like the lack of social encounters and close contact made us want our products and the objects surrounding us to fill in this void. after this year, I'm trying to put more emphasis on making my works more personal, have more character, be less serious and sharp, softer, rich in detail and materials.
If you could ask yourself a question for this interview, what would it be? And how would you answer it?
Are you a designer? An artist? craftsperson? what are you? I would like to know that myself.
Do you have any news you would like to share with the DDW community? 
I'm currently looking to start a new chapter, hopefully, in Japan or Europe, I would love to hear about new exciting opportunities! So shoot me a message @roeeby.
Hey Designer! Do you also want to be featured on our website? Use #heyddw on Instagram, and who knows, you might be next!