MAKE THE FUTURE is welcoming the curious, the open-minded, the extraordinary and the autonomous.

Discover a range of exhibits, talks, performances and more during Dutch Design Week.

In this group exhibition MAKE THE FUTURE we lay hold of the archetypes and how we play with expectations and identity without tapping into new sources. The non-conformist designers, researchers and artists open up everything that really matters and start moving into neoteric realities to find new roads to cultivation.

How important is design if we already have too much? How many chairs can one own? Can we re-use ideas? How can we learn to (re-)assemble? How do you reverse the process of the makers industrialization? Should we discuss the process of the maker-mind?

Will we develop greater clarity about what should be? Will artists play a more important role in understanding context and the nature of change? Will thinkers and makers merge or continue down separate paths? Will design sustain?

Let us use disruptive power to change awareness and acting. We play to see, understand and act.




satellite program
10-23 14:30 @ KeiBLACK VVV building Downtown
House of Hopelezz | Empowerment by Play - performance lecture
Circumventive Organs
With the introduction of bioprinting the possibility of new organs is becoming a reality. The ability to replicate and print cells in complex structures could mean different cells with various functions could be put together in new ways to create new organs we would take millions of years to evolve naturally. Frankenstein-esque hybrid organs could then be put together using cells from different body parts or even different species.


Laboratorium
Laboratorium is the experimental lab for art/design and biotechnology at KASK / School of Arts Ghent. As a biolab in art and design it focuses on exploring different interactions between art, science and technology.

The Color Biolab is a transdisciplinary research project that aims to reflect on the possibilities of new coloring sources, from traditional coloring to living organisms or waste and the implications involved.
Digital Craft
Digital Craft explores the possibilities that arise when a human is directly interacting and drawing with a 3D printer, without a computer being an intermediate in the process. In this way, 3D printing becomes a craft, as it is operated by a human instead of a computer.

Currently, the Digital Craft collection comprises textiles as well as reinterpretations of standard, mass-produced plastic products such as crates, juxtaposing craft and industry.
Blood I
Floor Martens is a Dutch artist and photographer based in Maastricht, Netherlands. She graduated in 2019 at MAFAD.

The dried blood from an animal, crushed to a powder, is showing the occurred movements from an intangible space. The space between human and animal and life and death. The dissolution process stops by withdrawing the water from the blood. The physical leftovers as the memory of the past and the transformation process.
From the Vault
Since 2004, GOGBOT festival presents an annual audiovisual spectacle of the latest art, music and technology that transforms the city center of Enschede into a cyber fair. For four days and nights there are groundbreaking installations, performances, exhibitions, lectures and parties related to the influence of technology on today's society. Especially for Make the Future Gogbot curates one film that will be shown during the exhibition.
Empowering by Play
Taka Taka, artist and (drag)performer will talk about the empowerment by play during a performance lecture in xKEIBLACK (former VVV building).

Drag identity comes forward by playing with expectations, appropriating characteristics of known symbols and pushing forward a dramatic sense of self. Can we learn to imply diversity and creativity to make the future not only interesting but also more sustainable?
While the world was burning, i was dancing ...
His fascination goes out to the Nietzschean will for power. The (will to) power of the past, the present, art and the individual are facets of this will to power that are of particular interest to him. In addition, he investigates the role of iconic artworks and ideals from the past and the present that have been portrayed - the conversation he wants to initiate with this is about the desirability of these influential or any powerful ideals.
Spectral Radiance
Spectral Radiance (2019) is an interactive Couture design by fashion designer Maartje Dijkstra and creative programmer/music producer Beorn Lebenstedt aka Newk.

This bold piece is totally manual 3D printed; using a 3D printer-pen as a tool to create unique structures and surfaces. The production process – that is of great importance to the artist – bears witness to the synergistic potential of cutting edge technology and the respect for craftsmanship.

Motown Movement
Why doesn't everyone fight against climate change with the technologies already at hand? We stumbled upon this question during our architecture studies at the Technological University of Delft. We are able to transform old broken-down houses into self-sufficient homes all over the world, yet we show a lack of effort to inspire, motivate and empower others to do the same. This way, technical innovation and brilliance is left almost untouched by the majority of people.
Series of 2d work
Visual artist and designer, Tessa Koot is always on the lookout for new interpretations of objects she sees in real life and in the digital space, collecting these images Koot sees no difference between the digital and physical when it comes to her approach of redefining objects and imagery.

Koot is continuously mixing and matching old fashioned-techniques and analogue crafts with the possibilities of digital tools, exploring the potentials of modern technology in contemporary design.
IKEA make+assembly
Automation, digitization and efficiency alienate people from manufacturing processes, product value and the joy of work. Re-humanizing production systems by designing open and inclusive processes of making is of utmost importance.
Bling Bling Me$$iah
Victor Crepsely is the new kind of contemporary artist. He does it all. Mainly, he observes the zeitgeist. Which today often means observing plastic objects and humans relation to them, and all the semiotics that comes with it.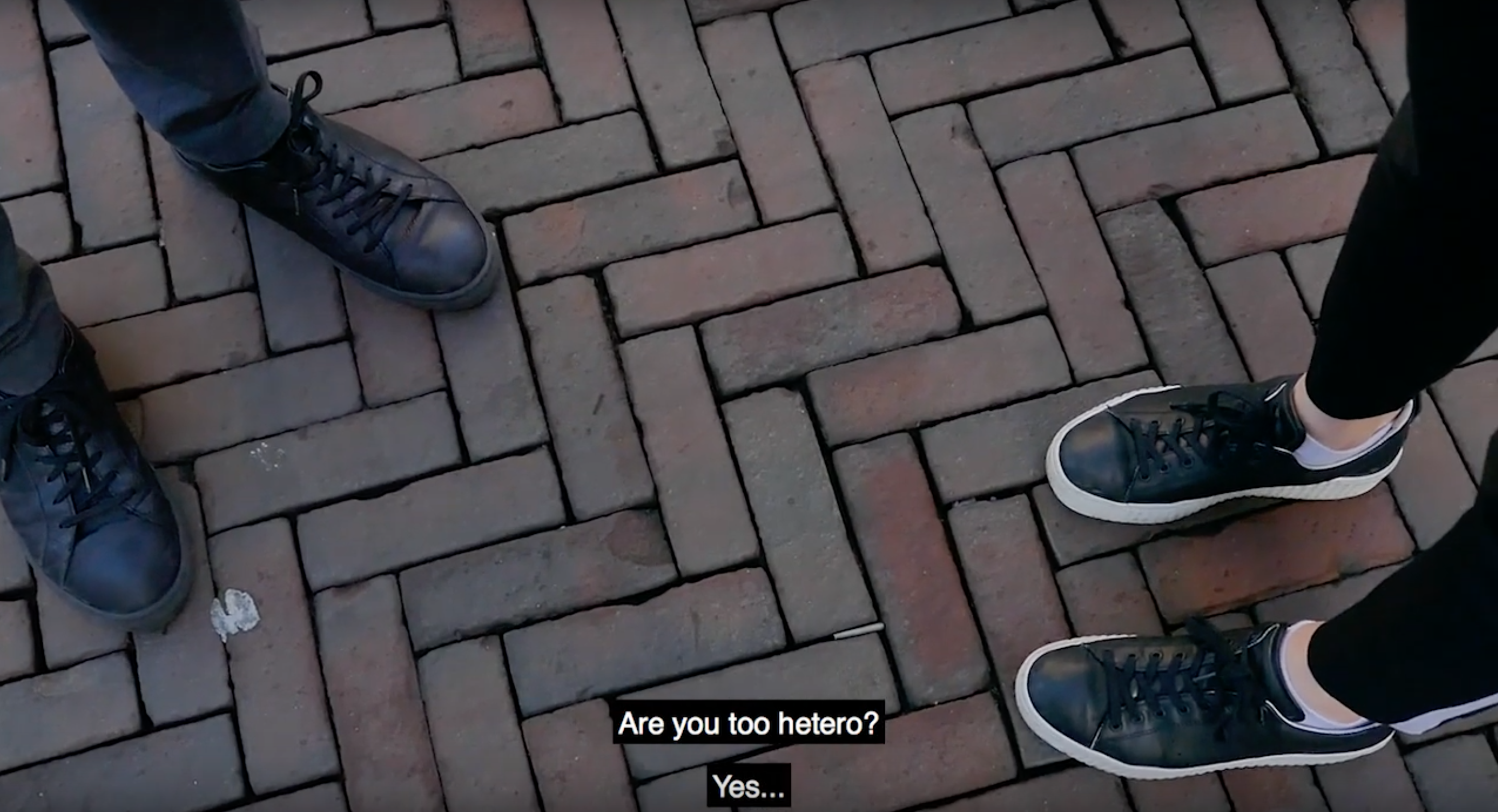 When did you become a heterosexual?
Rowena Buur is a non-binary feminist and artivist whose work revolves around identity, sexuality, gender, and family. Working with video, photography, and typography, along with humour and irony, Rowena's work becomes a way of dealing with reality.
Partners