The Craft & New Materials Talk brings you back to the essence of design, showing you examples of material research and new craft techniques: both on an experimental level as well as large scale applications for the industry.
The way we currently deal with materials and material ideas situates us in an in between. Craft can meet materials in this middle to find sustainable solutions for the future. Where craft is a way of thinking through practice, the development of materials is a way of thinking through matter. In order to interrogate craft and materials in design from different perspectives we will be looking at them through colour, technology and growth.

Keynote speakers of this event are: Marijke Griffioen (Forbo), Lawrence Theunissen (DSM) and material designers Tamara Orjola, Delany Boutkan and Audrey Large. The event is moderated by Oli Stratford (Disegno Magazine).

This programme is created in collaboration with content partners Crafts Council Netherlands and Ma-tt-er, mediapartner Disegno Magazine and businesspartner DSM.

All DDW Talks are English Spoken.
Materials play an important role in the work of Tamara Orjola. As a designer living in the rise of consumerism, growing population and climate change, she finds it very important to understand the global picture, the whole cycle of materials applied. A good example of her work is the project Forest Wool. It's a material focused research about existing agricultural and industrial processes, identifying new opportunities and unexplored potential application of abandoned by-product: pine needles.
Forbo
Marijke Griffioen is within Forbo Flooring Systems part of the Furniture Linoleum team. She is responsible for the design and coloration the Desktop as the Bulletin board collections. She also initiates collaborations with international educational design institutes, independent designers and international furniture manufacturers. In her projects she collaborates with BA and MA students in product and interior design.
Audrey Large (b.1994) is a French designer based in the Netherlands. She graduated with Cum Laude from the Design Academy of Eindhoven (NL), MA Social Design, in 2017 . Straddling between art and object design, her practice explores the potential of digital image manipulation processes applied to the design of our material surroundings. For her, objects are images and images are objects. Whether moving, 2D or 3D, she considers herself an image maker.
Delany Boutkan writes and produces (programmes and other 'public' formats) on the basis of her fascination for the economic systems design is produced in, mostly related to popular media, whilst working at Het Nieuwe Instituut in Rotterdam on the project 'For the Record'. In her talk she will be elaborating on the value of objects in our current media landscape.
Business Development Manager Decovery®
Lawrence Theunissen joined DSM in 2002 and since then managed business and application development activities for various business units in research and innovation environments. Lawrence engages with partners along the value chain to increase awareness, engagement and acceptance of sustainable paints and coatings, which are produced using renewable resources. These products enable designers and architects to protect and beautify their designs, with coatings that are safe and sustainable.
CCNL (2013) is the all-encompassing platform for contemporary craft. It is the place where art, fashion, design and heritage all unite and where craftsmanship is nurtured and passed on to a new generation. Crafts Council Nederland works together with all key players within the crafts domain. As researcher. As initiator. As catalyst. As guide. As concept developer. As unifier.
Ma-tt-er is a materials research design studio, consultancy and school. We advise, design, communicate and educate what materials are, what they can be and where they come from in order to implement a responsible future. Ma-tt-er's work focuses on creating a positive social, economic, political and environmental impact, which reveals the truth about how we live today and might live tomorrow.
Decovery® by DSM is a family of plant-based resins used to develop plant-based paint. These coating resins are partially made from plants but have an equal – or in some cases even better – performance compared to conventional fossil-based paints. Decovery® plant-based paint helps architects and designers give their designs a greener more sustainable finishing touch!

Disegno is the world's leading quarterly journal dedicated to long-form independent reporting and critical writing on design. Released in April, June, September and November, Disegno includes a mixture of reportage, photoessays, profiles, critical discussion, interviews, reviews and roundtables. Covering design, architecture, fashion, urbanism, graphics and technology, Disegno's website is also updated daily with breaking news from the design world.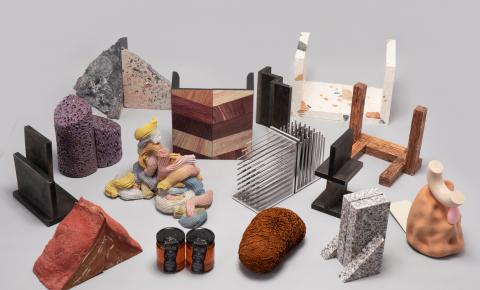 Partners