Stealth is a surveillance proof multi-factor authentication interface in the form of a mouth wearable. This experimental design explores the mouth as a gateway to safeguarding our identity with its unique biological and mobile properties.
The mouth has been holding the words of the secret for us since the beginning of history. Yet beyond language, with its unique biological and mobile properties, it can be a gateway of safeguarding our identity.

In a world of omnipresent surveillance, the choices of biometrics and the verification mechanism for identification and authentication should be carefully considered. Future repercussions may happen due to poorly chosen public biometrics and outdated verification mechanisms.
The mouth has multiple concealed biometrics that can't be easily collected by others. Stealth mouth wearable scans and stores the user's palate biometrics for identification purposes. Besides biometrics, a secure identification/authentication system should include a layer of knowledge. The mouth is an incredible machine with rich input and output channels. Stealth leverages the tongue's mobility and sensation to facilitate a communication protocol. When authentication is required, the device delivers a code of digital simulated senses. The user should perform pre-defined gestures in response to each sense. The challenge-response pairs are shared knowledge exclusively between the device and its user.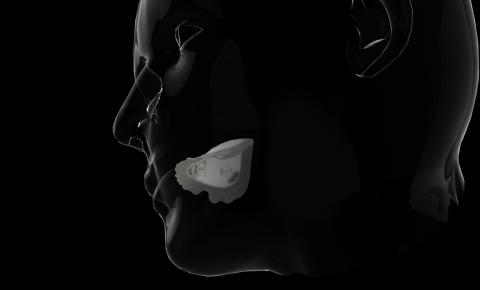 Partners