Crafts Council Nederland presents: HOW&WOW Linen.
This two-piece production contains a journey through Dutch agriculture showing the course from flax till linen and its exceptional versatile use. Its mysteries hidden in almost forgotten knowledge, revolts back in inevitable ways. HOW starts with the delicate blue flower and will introduce you to ancient techniques among which are rippling, winnowing, retting, scutching and heckling combs. WOW shows an experimental search by designers and artisans encountering tradition and new perspectives. Emphasising flax, linen and linseed oil's potential relevance. Coming together in a highly aesthetic, but foremost essential group exhibition. Bringing light at the dusk of 2020.

Introducing Pauline Esparon, Maaike Gottschal, Eva Klee, Agne Kucerenkaite, Christien Meindertsma, Anita Michaluszko, Ruben van der Scheer, Saar Scheerlings, Studio Plastique, Lee Sun, the linen project stewards, Babs van den Thillart, Weefnetwerk, Mark de Weijer and Anna Wetzel. With cooperation of Karlijn Bokhorst en Heleen Lorijn.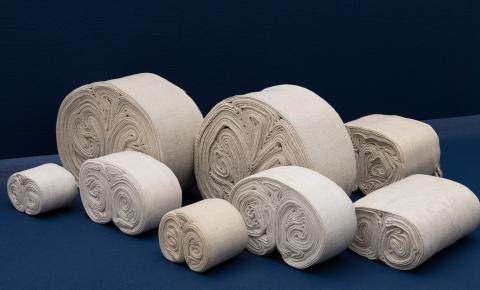 Partners