What if ... DDW2020 would have been a physical event? That has become a question that will remain hypothetical forever. But we díd already think about it. How would we have organized a physical DDW 2020, in times of a global pandemic, in a safe yet fun way?
Covid-19 has turned the global events industry upside down. Dutch Design Week seemed to be able to slip through the cracks for a long time, but due to the latest developments, it was also forced to switch to a fully digital edition at the last minute.

Together with our design community, we were already working on a safe physical festival. Because designers would not be called designers if they had not come up with solutions to create a DDW-worthy experience - despite all the special circumstances.

Designers Imke Sloos, Anna Dienemann and design studio The incredible machine have thought about questions such as: What if locations are full? How do you make a queue fun and yet safe? How do we sympathetically remind visitors of the 1.5 meter distance, if they temporarily seem to have forgotten about it?

The fact that we cannot put these ideas into practice during DDW, doesn't makes them less relevant! So we are happy to share some of our corona experiments, ready to be implemented during future events, through this virtual channel.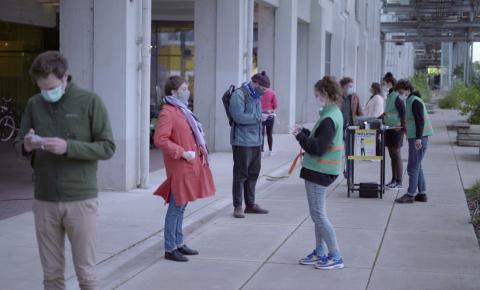 Partners